Intelligent non-ironing bag-sticking machine DYE-05-AL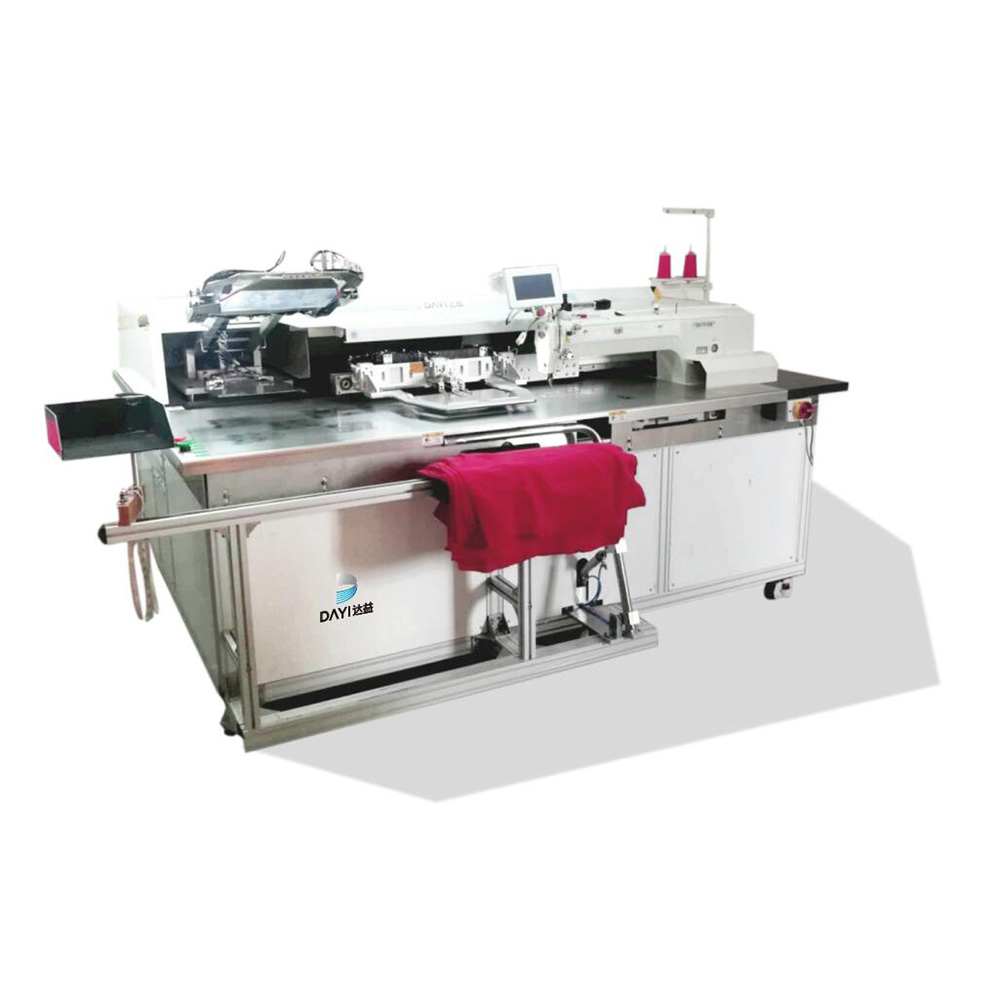 Intelligent non-ironing bag-sticking machine DYE-05-AL
Details
I. Introduction
Needles: Dpx17 9#-23#
Power: 750W
Voltage: Single phase 220V AC 50/60Hz
Control system: JOOKE developed system
Pressed Air and Usage: 0.5Mpa 1.8L/min
Machine Dimension: 1600(Long)X280(Wide)X1300(High)mm
Net weight: 560kg
II.Functions
1.Automatic ironing free function
A.Without ironing process,no high temperature for pocket,so no color difference between pocket and adjacent area to make a perfect color match.
B.Iron-free device template can be adjusted acccording to the shape of pocket.
C.Automatic folding:the most advanced folding technology & two times folding technology for pocket (patent no:ZL20152 0224862.2).
2.Pressing frame devices
A.During automatic sewing process,in order to have more precise position,inside pressing frame can be adjusted bigger or smaller size according to various sewing requirements Flexible inside pressing frame device(patent number:ZL2015 2 0238582.7).
3.Programmable control system
A.Self-made pattern independent research and development control system, and different sewing stitches pattern can be easily made by different program, making sewing process more user-friendly.
B.Independent touch screen operating panel and full servo control enables us to control and adjust in more convenient and simpler way.
4.Stable vacuum device
A.Vacuum device is steady and fixed for fabrics,preventing the movement of cloth in the process of sewing.
B.The application of vacuum devices make sewing more smooth and well balanced,which helps to sew in high efficiency way.
5.Automatic bobbin door
A.In order to increase the output and maintain ergonomic design,added automatic door-opening design make replacing the bobbin, adjusting the hook and threads trimming more intelligent.
6.Automatic receiving device (Optional device)
A.In order to make automatic receiving more reasonable,carefully designed automatic rolled receiving device has overcome the shortcomings that short cloth could not be automatic received.with automatic feeding device patent (No.ZL 201520238572.3).
III. Features
1.Automatic iron free folding,automatic feeding,automatic sewing,automatic receiving,automatic presser lift foot, automatic thread trimmer,automatic barback.
2.Auto stop on thread breaking,auto counting,patterns auto saving,auto clipping,auto loose,auto hook door,auto inside frame adjustable,and automatic vacuum device.
3.Adjstable frame system can adopt to heavy material pockets,and easy to replace frame.

IV.Main Parameter
| | | | |
| --- | --- | --- | --- |
| Model | DYE-01-AL | Head | Brothers 5040 prototype (Other brand as optional) |
| Head speed | 2600RPM | Max sewing area | 450mmx500mm |
| Voltage | Single phase 220V AC 50/60Hz | Pressed Air and Usage | 0.5Mpa 1.8L/min |
| Fabrics | Jeans, knits, woven, etc | Sewing quantity | 120pcs/h (200)needle |
| Pattern design | Programmable | Power expense | 0.5 kwatt-hour/hour |
| Pattern storage | 999 pcs available and odditional USB storage | Stich | 0.05-12.7mm |
| Needles | DpX17 9#-23# | Presser foot lift height | 20mm |
| Feeding & collection model | Automatic | Oil supply mode | Automatic Light-Oil |
| Position lasers lights | Optional | Sewing mode | Automatic |
| Table height range | Adjustable (850-950)mm | Control system | JOOKE developed system |
| Stich type | Single lockstich sewing | Pneumatic components | SMC Japanese standard |
| Net weight | 980kg | Gross weight | 1280kg |
| Machine dimension | 1600mmx1280mmx1300mm | Unit package dimension | 2070mmx1460mmx1460mm |
Contact Us
| | |
| --- | --- |
| Contact : | Mr. Duan |
| Phone : | +86-15819418888 |
| Email : | idayi_cc@163.com |
| Wechat : | +86-15819418888 |
| Website : | www.idayi.cc/en/ |
| Address : | K05, 2F Building 5, Kimka Creative Valley, Xiangzhou District, Zhuhai, China |